Dapa members were out in force at the 2014 edition of the Heights Car Show, put on by the Heights Baptist Church in Richardson. There were move Pontiacs present at this show than your intrepid reporter has seen in one place in a very long time. In fact, the number of Indians far outnumbered those even at this year's Dallas Autorama. In addition to our normal propensity for being the coolest folks there, several members also served as judges for the event. …And…
WE WON THE CLUB PARTICIPATION AWARD!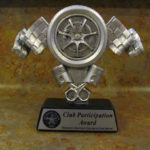 Here are a few photos of the various Pontiacs we saw at the event. Some of these are DAPA cars, others aren't (yet), and there were still more that arrived after these photos were taken.